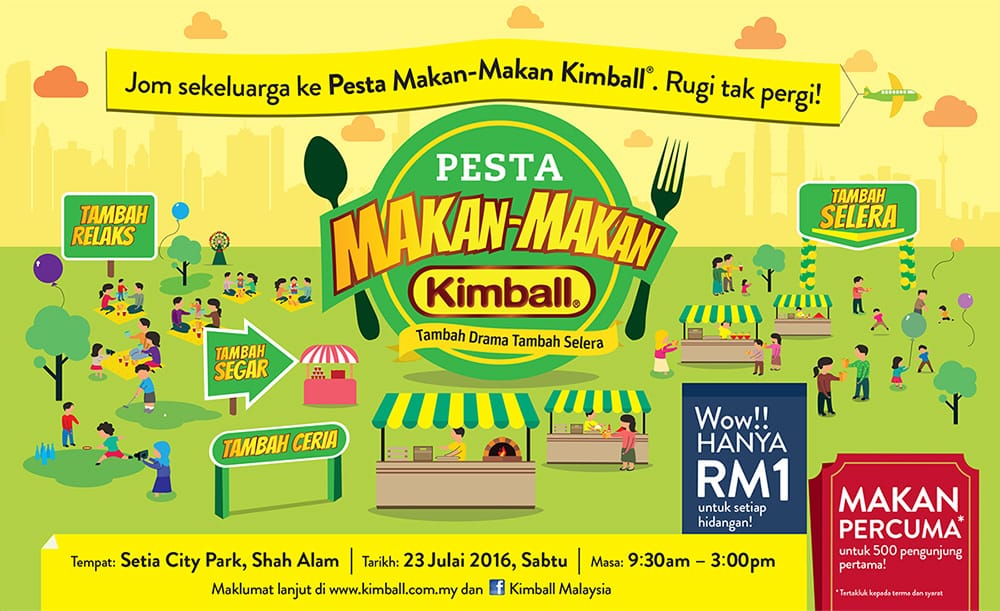 In conjunction with Kimball®'s new campaign "Tambah Drama Dalam Masakan", Kimball® will be organizing Pesta Makan-Makan Kimball®, a picnic-in-a-park styled food carnival on 23 July 2016 in Setia City Park, Shah Alam from 9:30am to 3:00pm.

Families and foodies are in a treat as Kimball® is setting up stalls with a flavoursome fair of traditional and modern dishes cooked using Kimball® products, serving dishes such as Nasi 'ADA BRIYANI', Nasi Padprik AWE DONDE, Laksa MASAM-MASAM MANIS, Mi Ja-WOW, Spageti Bolognese MELETUPPP, Burger Ayam BERGEGAR and much more for only RM1 per dish.
Hurry, only limited food vouchers available for sale, while stocks last.
---

First 500 visitors aged 12 years and above will receive food vouchers to eat for FREE! Please read terms and conditions.
---

1) 'TAMBAH SELERA' ZONE - Enjoy flavorsome Kimball-icious dishes for RM1 only!
2) 'TAMBAH SEGAR' ZONE - Quench your thirst with free drinks!
3) 'TAMBAH DRAMA' ZONE - Exclusive zone to take selfies, wefies & much more!
4) 'TAMBAH RELAKS' ZONE - Relax and enjoy your meal with your family ala picnic style
5) 'TAMBAH CERIA' ZONE - Have fun while playing games and stand a chance to receive a mystery gift
6) 'TAMBAH RASA' ZONE - Don't miss out on opportunity to grab attractive Kimball® deals
---

| TIME | AGENDA |
| --- | --- |
| 9.30am | Gate Opens |
| 10.30am | Opening Ceremony |
| 11.30am | Stage Activity 1 |
| 12.30pm | Stage Activity 2 |
| 1.00pm | Lucky Draw Round 1 |
| 1.30pm | Stage Activity 3 |
| 2.00pm | Lucky Draw Round 2 |
| 3.00pm | End of event & wrap up |
---

Admission is free. However, you need to purchase vouchers for food.
No, you don't have to register for the event. However, the first 500 visitors who are entitled to eat for free requires registration on event day. Please refer to the terms and conditions.
Each voucher booklet costs RM5 whereby you will be entitled to redeem 5 dishes.
You can purchase the voucher booklet at the sales counter located at the main entrance of the event area.
No, there is no age limit. Everybody is welcome to join the fun! However, children below 12 years old must obtain consent from parents or guardian. Please ensure you read the terms and conditions of the event.
You can park your car at either Setia City Mall or Setia Convention Centre.
Bring along cash, umbrella and sunscreen, and you're set for a good time!
There is a wide range of food to choose from; from traditional dishes to modern dishes. This is a pork-free and alcohol-free event. All food served are catered by our halal-certified caterers.
---

For more informations, please click here.
---