TAMBAH DRAMA RECIPES |
Slow Cooked Black Pepper Chicken Bun
Preparation Time 30 minutes
Cooking Time 6-8 hours
Serving Size 35-40 portions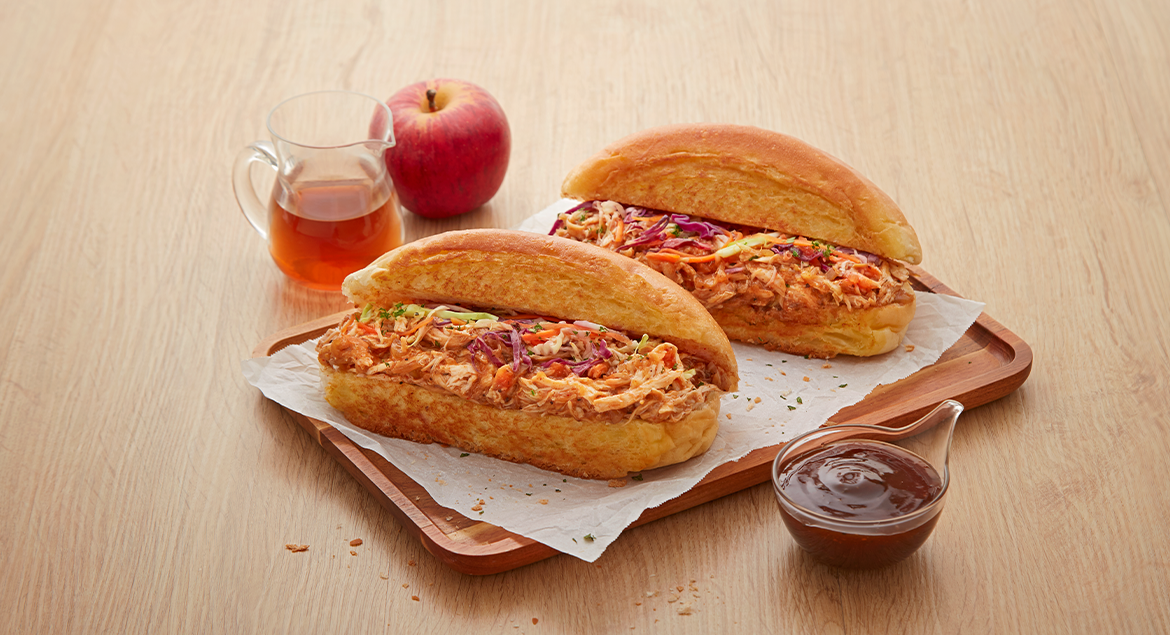 Ingredients
1 kg Kimball Black Pepper Sauce
For chicken marinade:
2.6 kg Old chicken (Ayam pencen)
500g Red Apple, skinned and grated
80ml Vinegar
3 tbsp Garlic powder
300g Onion, finely diced
3 tbsp Paprika
2 tbsp Coarse black pepper
2 tbsp Corn flour
For coleslaw:
1 kg Kimball Mayonnaise
1 kg Purple cabbage, finely shredded
2 kg White cabbage, finely shredded
1 kg Carrot, finely shredded
10g Salt
75g Brown sugar
150ml Apple cider vinegar
For garnishing (optional):
Spring onions or chopped coriander
Method
For chicken marinade, mix all ingredients together and set aside.
Wash chicken and keep it whole. Pat dry it and make a couple of slits on the thigh and breast. Rub chicken evenly with chicken marinate and place in a slow cooker. Pour the remaining chicken marinade on top and cook on low heat for overnight.
Remove chicken from slow cooker, shred the meat from the chicken and toss with the gravy. Set aside.
For coleslaw, mix all ingredients together and chill in fridge for overnight.
Serve with sausage buns, burger buns or sandwich bread.
Try more of Kimball's delicious recipes!