TAMBAH DRAMA RECIPES |
Kimball Chicken & Vegetable Kurma
Preparation Time 20 minutes
Cooking Time 1 hour
Serving Size 8-10 persons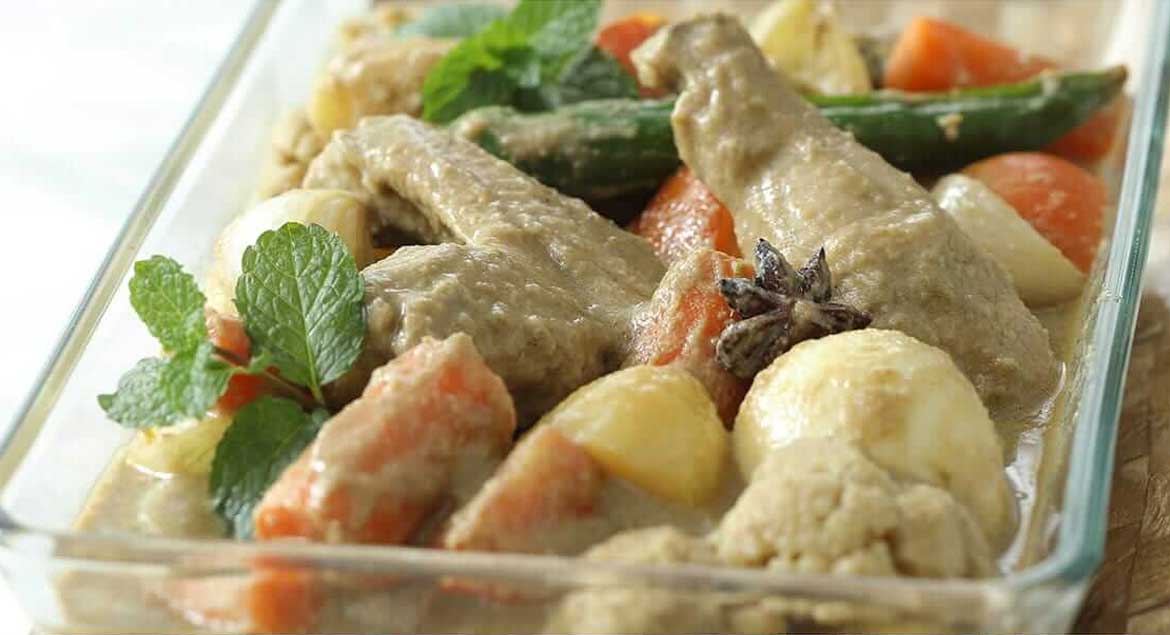 Ingredients
Mixture A (blend into a fine paste)
200g white onion, sliced
8 cloves garlic, sliced
5cm ginger, sliced
3 green chilies, sliced
75g kurma spice powder
¾ cup water
Mixture B (stir well until smooth)
½ cup Kimball Mayonnaise
½ cup water
2 Tbsp lime juice
1.2 – 1.5kg chicken, cut into 5cm pieces
3 Tbsp Kimball Oyster Flavored Sauce
50ml oil
3 Tbsp ghee or butter
Whole spices: 4cm cinnamon, 6 cloves, 3 cardamom, 2 star anise
1litre water
3 potatoes, quartered
2 carrots, thickly sliced
3 small onions, quartered lengthwise
200g cauliflower, separated into florets
2 tomatoes, cut into chunks
5 hard-boiled eggs
2 tsp salt, to taste
½ cup fresh mint sprigs
Method
Marinade chicken with Kimball Oyster Flavored Sauce, set aside 10 minutes.
Heat oil and ghee in a large pot over medium heat. Add whole spices, followed by mixture A and cook on low heat while stirring constantly for about 15 minutes until oil separates.
Add chicken and stir occasionally until chicken is tender. Add water, carrots and potatoes and bring it to boil. Then, turn down the heat and simmer for 15 minutes until vegetables are tender. Add onion, cauliflower, tomatoes and hard-boiled eggs, cook another 10 minutes and season with salt to taste.
Stir in mixture B and mint to korma gravy, bring back to boil and turn off heat.
TIP: Kimball Mayonnaise makes the gravy more delicious and creamy.