TAMBAH DRAMA RECIPES |
Kimball Festive Gado-Gado
Preparation Time 30 minutes
Cooking Time 20 minutes
Serving Size 8 persons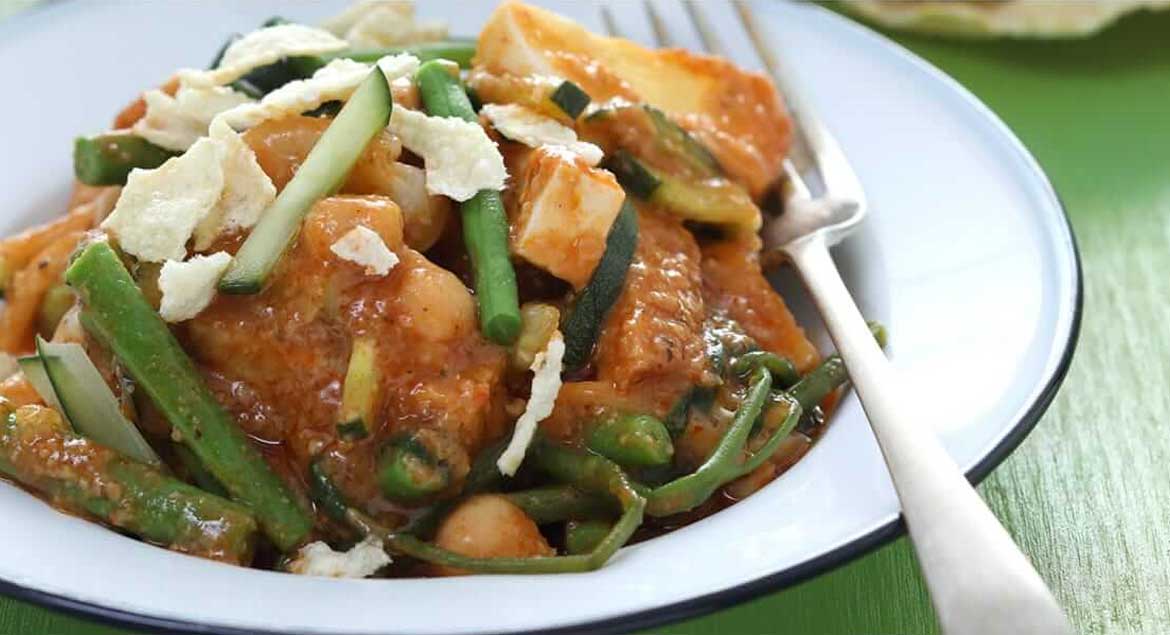 Ingredients
For sauce:
2 tbsp oil
2 tbsp chilli paste
½ cup Kimball Black Pepper Sauce
½ cup Kimball Chilli Sauce
½ cup thick coconut milk
2 cups water
1 ½ cups (180g) roasted peanuts, finely ground
For salad:
6 long beans cut into 5 cm lengths, blanched and drained
3 cups thickly sliced cabbage, blanched and drained
1 small bunch kangkong, plucked into 5cm lengths, blanched and drained
2 potatoes, boiled and thickly sliced
3 hard-boiled eggs, shelled and cut into wedges
3 firm tofu, pan-fried and cut into 2 cm cubes
2 cakes tempe, pan-fried and cut into 2 cm cubes
1 small sengkuang, peeled and finely shredded
1 small cucumber, finely shredded
1 tin Kimball Chickpeas, drained
10 – 20 pieces pre-fried melinjo crackers
Method
For sauce: heat oil in a pan and fry chilli paste over low heat until well cooked and oil separates. Add Kimball Black Pepper Sauce and Kimball Chilli Sauce. Cook 5 minutes, then add coconut milk and water. Bring to the boil before adding in finely ground peanuts. Cook 10 – 15 minutes, stirring occasionally until sauce thickens. Season to taste with salt.
Arrange prepared salad ingredients on a large platter nicely.
Serve with sauce in a separate bowl.