TAMBAH DRAMA RECIPES |
Shrimp Dumpling ala Kimball Chilli Crab Sauce
Preparation Time 20 minutes
Cooking Time 25 minutes
Serving Size 6 persons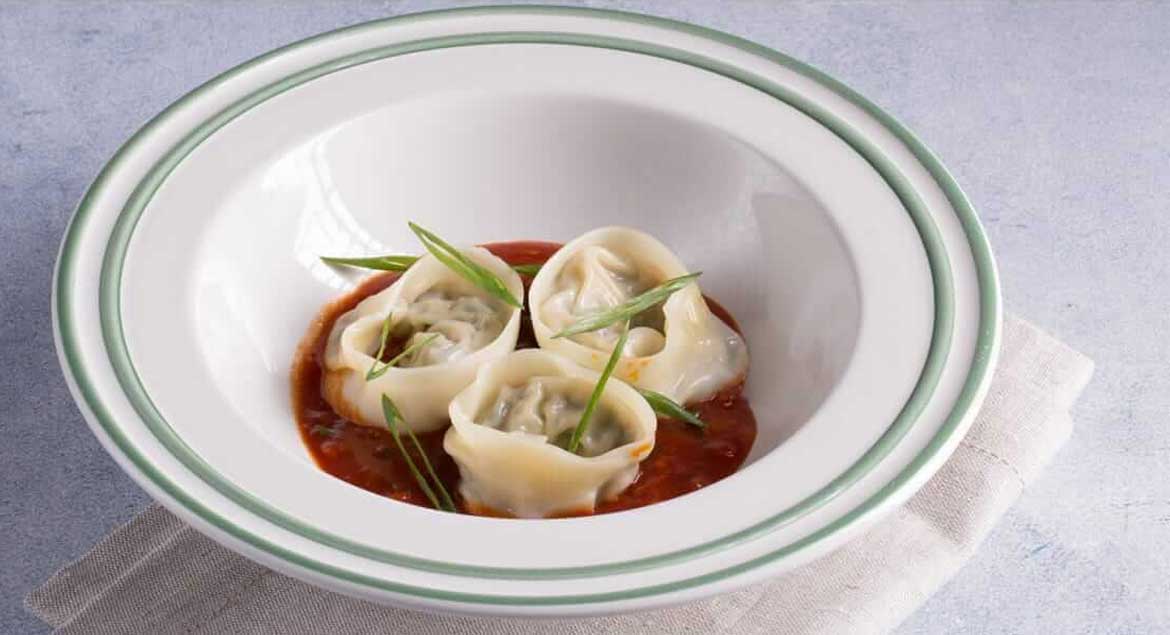 Ingredients
For Dumpling
150g prawn, chopped
50g minced chicken
1 bunch spring onion, sliced
½ tbsp sesame oil
salt, to taste
black pepper, to taste
1 packet gyoza skin
2 tbsp peanut oil
1 pot water
For Sauce
3 tbsp peanut oil
8 cloves garlic, chopped
5 red chillies, diced
1 inch ginger, diced
2 tbsp chilli paste
1 cup chicken stock
¼ cup Kimball Tomato Ketchup
1 tbsp Kimball Oyster Flavoured Sauce
½ tbsp tamarind paste
½ tbsp corn flour, mix with water
1 bunch coriander, chopped
1 egg, beaten
salt, to taste
sugar, to taste
Method
Mix prawns, chicken, spring onion and sesame oil in a big bowl. Season with salt and pepper.
Add ½ tbsp of meat mixture in the middle of gyoza skin. Wet the edge of the gyoza skin and fold it into half. Next, wet one of side of the edge and fold it into a tortellini shape.
Blanch in hot water with an appropriate amount of salt and peanut oil. Set aside.
Heat up peanut oil in a pan. Sauté garlic, chili and ginger till fragrant.
Add chili paste continue to sauté for a couple of minutes and add chicken stock.
Add Kimball Tomato Ketchup, Kimball Oyster Flavored Sauce and tamarind paste.
Allow the gravy to reduce and season with salt and pepper. Add cornstarch if sauce is not thick enough.
Add coriander and egg to the gravy.
Serve sauce with dumplings.