TAMBAH DRAMA RECIPES |
Stuffed Squid & Kimball Thai Chilli Sauce
Preparation Time 15 minutes
Cooking Time 20 minutes
Serving Size 4 persons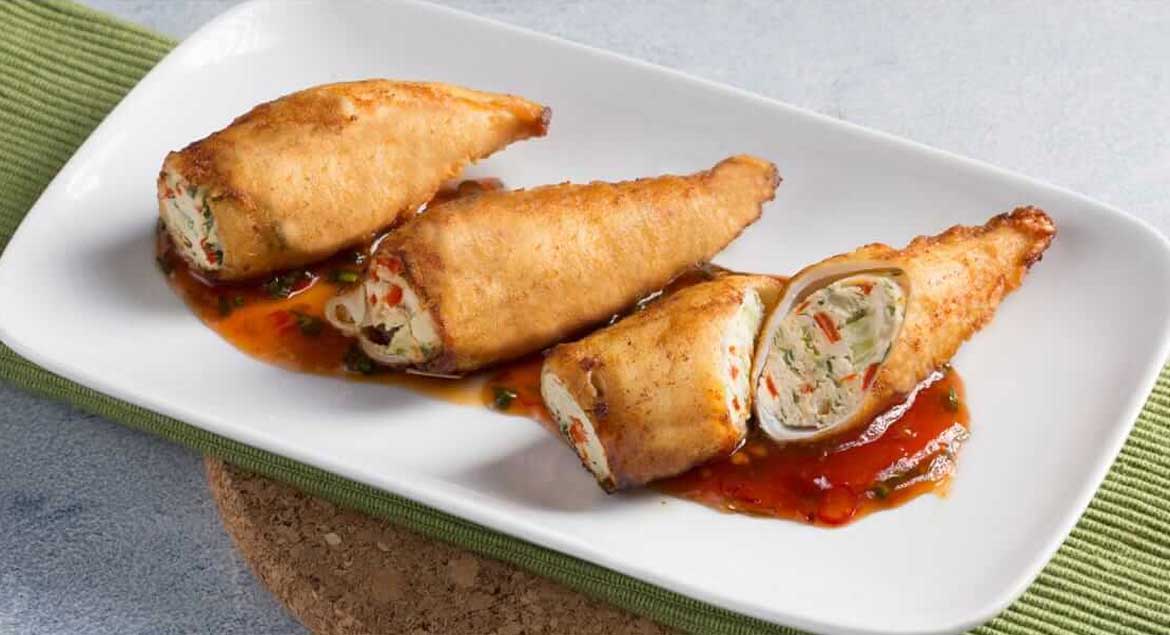 Ingredients
For Stuffing
2 tbsp oil
2 shallots, sliced
3 cloves garlic, diced
½ cup minced chicken
5 shitake mushrooms, diced
1 sprig coriander root, chopped
2 egg yolk
soy sauce, to taste
For Stuffed Squid
4 medium sized squid
2 egg white
1 cup rice flour
½ cup oil
For Sauce
2 tbsp oil
1 shallot, diced
2 cloves garlic, chopped
½ inch ginger, chopped
1 green chilli, chopped
2 bird's eye chillies, sliced
3 tbsp Kimball Thai Chilli Sauce
1 sprig spring onion, sliced
1 sprig coriander stems, sliced
soy sauce, to taste
water, appropriate amount
1 lime
Method
To make stuffing, heat oil in pan and saute shallots, ginger and garlic until fragrant.
Add mushrooms and cook until they are wilted. Add chicken and coriander root. Season with soy sauce and mix well.
Remove chicken mixture from heat and place into bowl. Add egg yolks to chicken mixture and mix well.
Next, to make stuffed squids: heat oil in pan.
Stuff squids with chicken mixture and skewer opening with toothpicks.
Coat stuffed squids in egg white, then in rice flour and fry in pan till golden brown.
Lastly, to make sauce, heat oil in pan and saute shallots, garlic, ginger, green chilli and bird's eye chillies until fragrant. Add Kimball Thai Chilli Sauce, soy sauce and a splash of water.
When sauce boils, stir in coriander stem and spring onion. Squeeze lime juice over it and serve it with stuffed squids.