TAMBAH DRAMA RECIPES |
Beef Bergedil & Kimball Mushroom Concasse Sauce
Preparation Time 25 minutes
Cooking Time 20 minutes
Serving Size 6 persons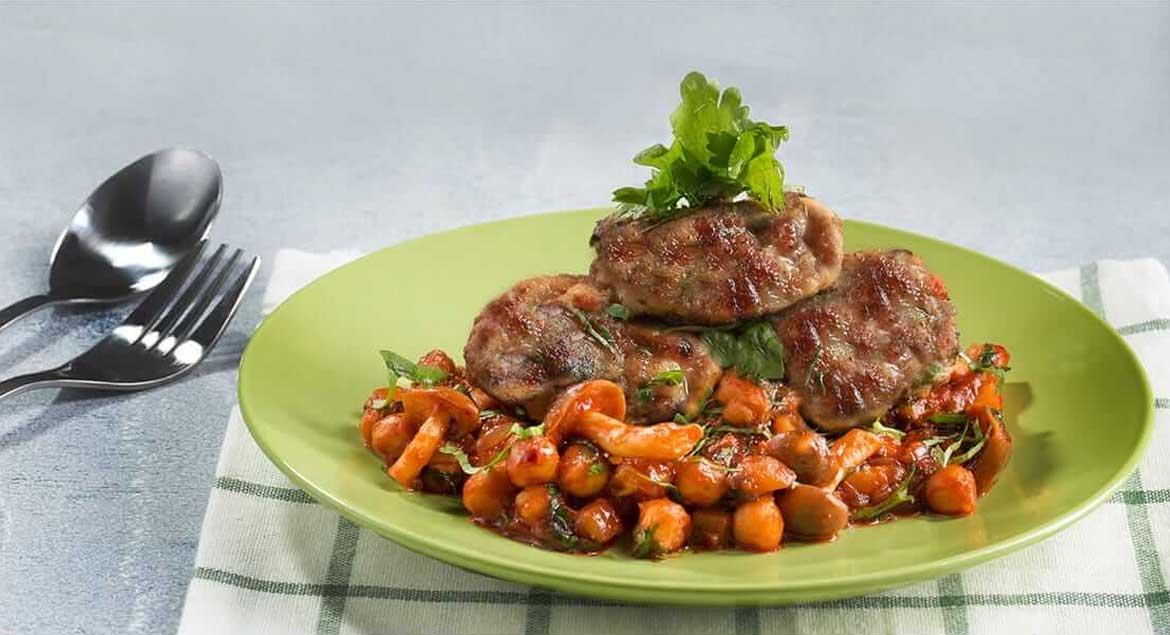 Ingredients
"
For Bergedil
2 potato, fried and strained
250g minced beef
6 cloves garlic, grated
1 onion, sliced and fried till crispy
1 inch ginger
2 tsp chilli powder
1 tsp cumin
salt, to taste
1 sprig coriander, chopped
2 eggs, beaten
½ cup oil
For Sauce
2 tbsp olive oil
3 cloves garlic, chopped
2 shallots, chopped
1 stick celery, chopped
1 cup shimeiji mushrooms
¼ cup Kimball Chickpeas
3 tbsp Kimball Mushroom Spaghetti Sauce
Water
Salt, to taste
1 tbsp coriander
"
Method
"
In a big bowl, mash potato and add beef, garlic, fried onion, ginger, chilli powder and cumin. Season with salt and add in coriander. Mix well.
Form the mixture into patties and fry them in a pan till half cooked. Set aside.
Coat patties in beaten egg mixture then fry for a few minutes until golden brown.
In a separate pan, add olive oil and sauté garlic, shallots and celery.
Next, add shimeiji mushrooms and Kimball Chickpeas.
When mushrooms are wilted, put in Kimball Mushroom Spaghetti Sauce with a splash of water.
Toss well and season with salt. Add coriander and serve together with bergedil patties.
"