TAMBAH DRAMA RECIPES |
Beef Pepper Macaroni Soup
Preparation Time 15 minutes
Cooking Time 30 minutes
Serving Size 4–6 pax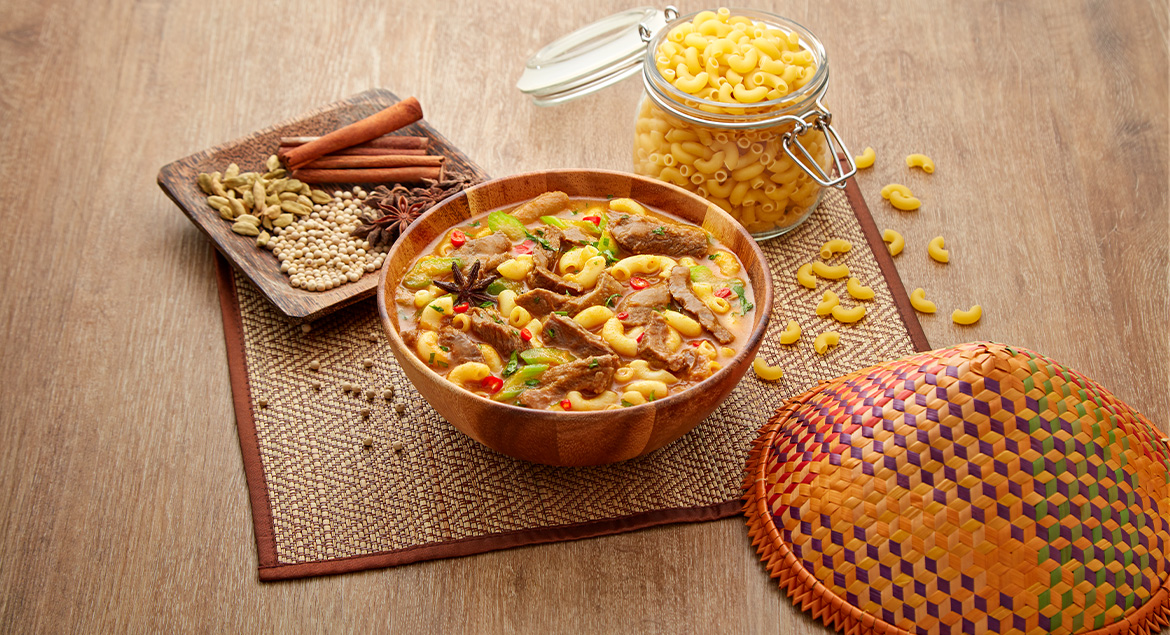 Ingredients
200g Kimball Macaroni, cook as per packet instructions
250g Beef slices
1 liter Water
3 nos Bird's eye chilli
1 tsp Salt
Blend to a fine paste:
10g Ginger - Blend to a fine paste
10g Galangal - Blend to a fine paste
100g Onion
4 cloves Garlic
For soup:
2 tbsp Kimball Chilli Sauce
3 tbsp Kimball Oyster Sauce
4 tbsp Oil or ghee
1 no Cinnamon stick
2 nos Star anise
6 nos Cardamom
2 stalks Lemongrass, lightly bruised
2 tbsp Kurma curry powder
1 cup Water
1 tsp White pepper
50g Celery, sliced diagonally
For garnishing:
Chinese celery, finely chopped
Bird's eye chilli, sliced
Method
Place beef, water, chili and salt in a pot. Bring to a boil, then turn down the heat to medium and simmer beef until tender. Remove the beef and reserve the stock.
Heat up oil in a frying pan and sauté blended ingredients until fragrant. Add in all spices and sauté until oil surfaces.
Pour in the reserved beef stock, water, all Kimball sauces, white pepper, celery and beef slices. Bring to a boil and turn off heat.
To serve, place Kimball macaroni in serving bowl and pour the soup over. Garnish and serve hot.