TAMBAH DRAMA RECIPES |
Beef Rice with Spicy and Sour Sauce
Preparation Time 30 minutes
Cooking Time 1 hour
Serving Size 4–6 pax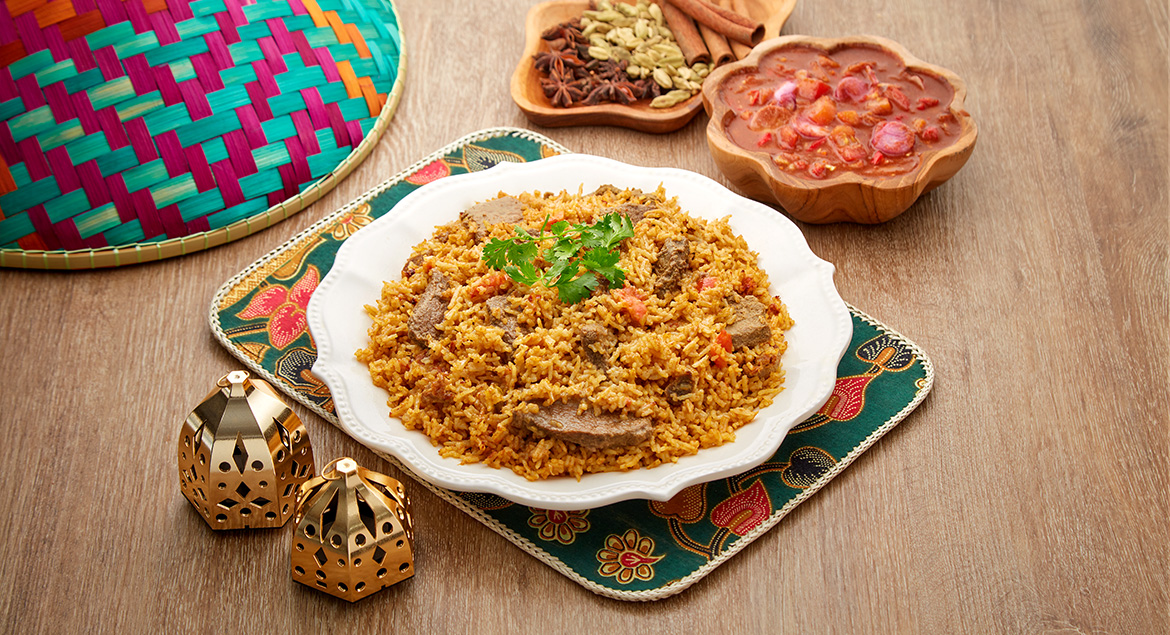 Ingredients
For beef rice (Nasi Daging):
1 tbsp Kimball Mayonnaise
1 tbsp Kimball Oyster Sauce
1 tbsp Kimball Chilli Sauce
3 tbsp Ghee
10 nos Cloves
2 nos Star anise
6 nos Cardamom
1 no Cinnamon stick
Blend to fine paste
120g Onion
4 cloves Garlic
30g Ginger
3 pcs Pandan leaves, knotted
160g Tomato, diced
2 tbsp Kurma curry powder
2 tbsp Meat curry powder
2 tbsp Water
300g Basmati rice, washed and soaked
500g Beef, cut into 1-inch-thick slices, boil until soft tender reserve the stock
1 cup Evaporated milk
½ tbsp Salt
For spicy and sour sos (Air Asam):
1 tbsp Kimball Chilli Sauce
Blend to fine paste
50g Onion
2 nos Red chilli
2 inches Belacan
4 nos Shallots, finely diced
1 medium Tomato, finely diced
2 nos Bird's eye chilli, finely chopped
1 tbsp Kerisik
1 cup Tamarind juice
Pinch of salt
Method
For beef rice, heat up ghee in a frying pan and sauté cloves, star anise, cardamom and cinnamon stick until fragrant. Then, add in fine paste, pandan leaves and tomatoes. Stir fry until golden brown.
Next, add in kurma curry powder, meat curry powder and water. Stir fry until oil rises. Then, add in rice and stir well. Transfer rice to a rice cooker and add in beef slices.
Combine all Kimball sauces and evaporated milk with beef stock to make 2 cups of liquid. Pour into the rice and add in salt. Cook as per rice cooker instructions.
For spicy and sour sauce, mix all ingredients together and serve with cooked rice.