TAMBAH DRAMA RECIPES |
Kimball Chicken Chop Hainanese Style
Preparation Time 10 minutes
Cooking Time 20 minutes
Serving Size 4 persons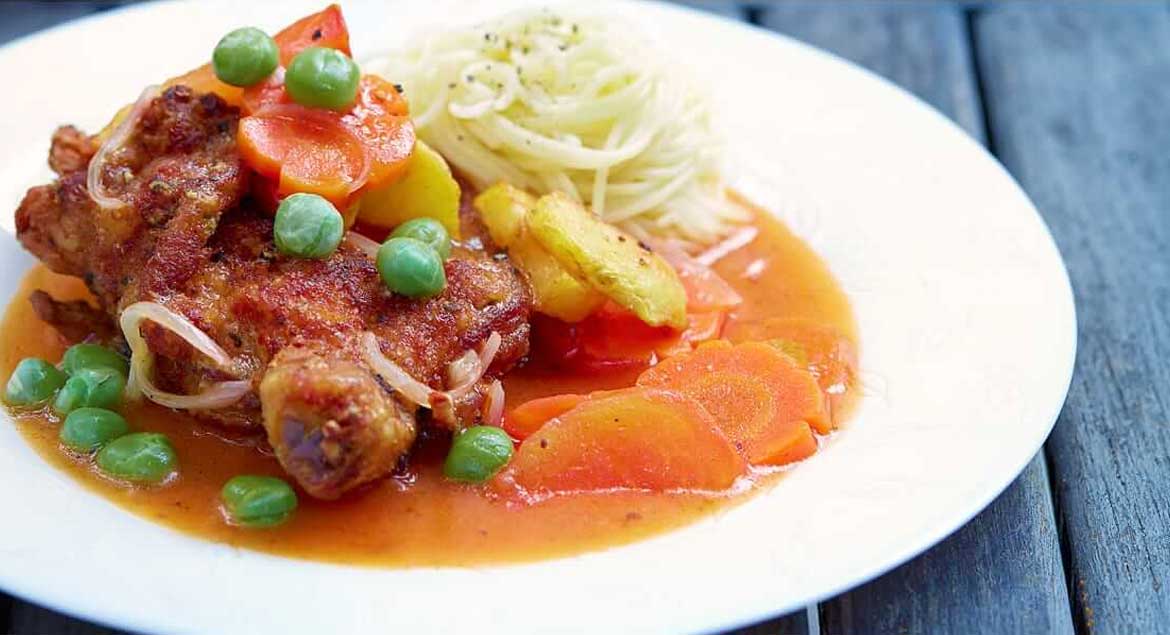 Ingredients
For Fried Chicken
2 pieces deboned chicken thigh (300g)
¼ tsp salt
¼ tsp black pepper
¼ tsp paprika
¼ cup breadcrumbs
¼ cup flour
½ cup oil, for frying
For Sauce
2 tbsp cooking oil, for sauté
1 onion, sliced
6 tbsp Kimball Tomato Ketchup
1 ½ cup water
½ carrot, sliced
1 tomato, sliced
1 tbsp vinegar
¼ tsp salt
1 tsp sugar
½ tbsp black pepper
¼ cup water, mixed with 1 tbsp of flour
¼ pack Kimball Spaghetti, cooked as per instructions on packaging
For Garnishing
1 tbsp green peas, blanched
2 potatoes, sliced & fried
Method
Season the chicken chop with salt, black pepper & paprika.
Mix the breadcrumbs & flour in a separate plate.
Coat the chicken chop with the breadcrumbs & flour mix evenly.
Heat oil in a frying pan and insert chicken chop. Pan fry each side till crisp & golden brown.
Drain & place in a plate to serve.
In a separate pot, heat up oil and sauté onion till limp and fragrant. Pour in Kimball Tomato Ketchup and water.
When its boiling, put in sliced carrots, tomatoes and cook till tender.
Season with vinegar, salt, sugar & black pepper.
Pour the mixed water & flour mixture gently over the sauce and stir till thickened.
Sprinkle with fried potatoes & green peas & pour the sauce over the fried chicken chop.
Serve with a bun of Kimball Spaghetti.