TAMBAH DRAMA RECIPES |
Creamy Beef Balls With Mashed Potatoes
Preparation Time 10 minutes
Cooking Time 15 minutes
Serving Size 4 persons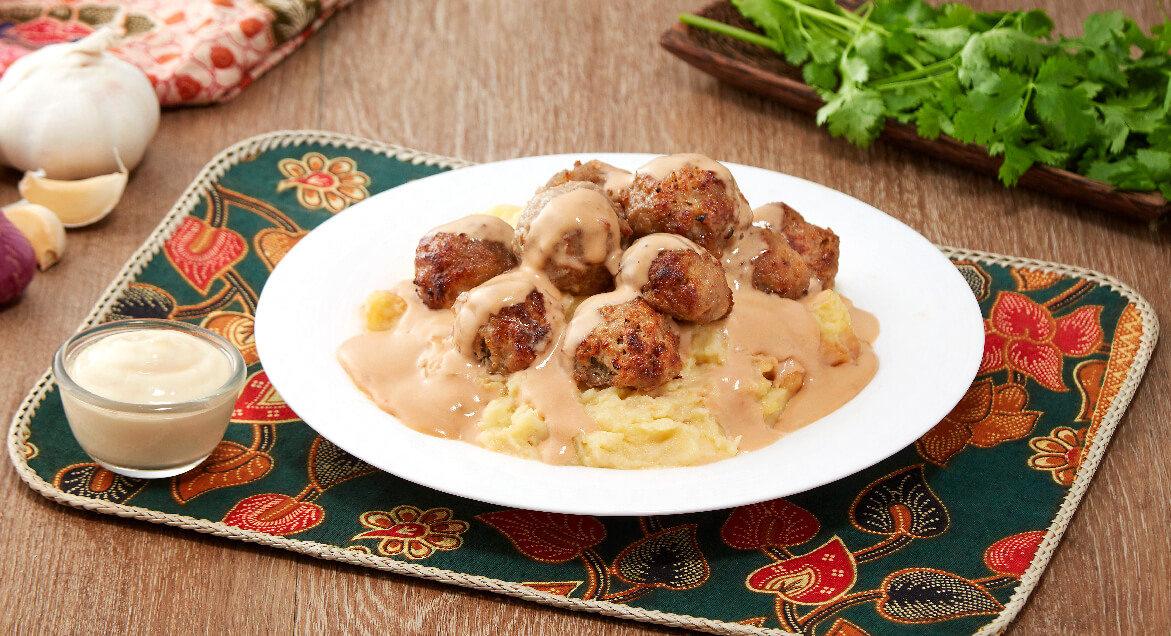 Ingredients
For Beef Meatball
3 tbsp Kimball Mayonnaise
500g Minced beef or chicken
1 Onion, finely chopped
2 pips Garlic, finely chopped
½ cup Bread crumb
½ tbsp Mixed herbs
½ tsp Black pepper ground
½ tsp Salt


3 tbsp Cooking oil


For Mashed Potatoes
4 tbsp Kimball Mayonnaise
800g Potato, cut into cube
30g Butter
Salt and black pepper to taste


For Sauce
3 tbsp Kimball Mayonnaise
1/8 tsp Kimball BBQ Sauce
1 tbsp Butter
Method
For beef meatball, mix all ingredients until well combined and shape into bite size. Heat up oil in a frying pan and pan fry meatballs until cooked. Drained oil and set aside.
For mashed potatoes, boil potato cubes until soft and drain the water. Mash with Kimball Mayonnaise, butter and season with salt and pepper. Set aside.
For sauce, heat up butter in frying pan and add in Kimball Mayonnaise and Kimball BBQ Sauce. Mix well and set aside.
To assemble, place mashed potato on serving plate and followed by beef meatballs. Top with sauce and ready to be served.
Chef tip: Add mayonnaise into mashed potatoes to make it smoother and more flavorful. Bread crumbs can be replaced by finely crushed toasted bread, cornflakes or crackers.