TAMBAH DRAMA RECIPES |
Spicy Beef (Harimau Menangis)
Preparation Time 10 minutes
Cooking Time 20 minutes
Serving Size 4 - 6 persons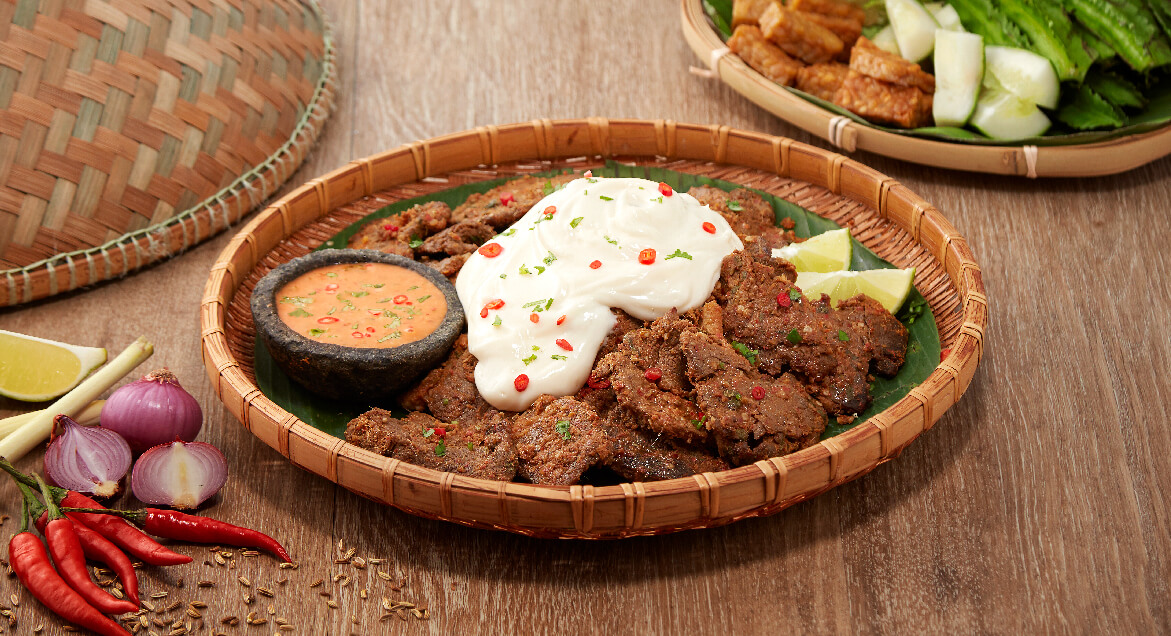 Ingredients
6 tbsp Kimball Mayonnaise
1kg Beef


For Beef Marinade (blend to a coarse paste)
6 tbsp Kimball Thai Chili Sauce
3 stalks Lemongrass
5 pips Garlic
30 Bird's eye chilies
3 Red onions
6 sprigs Coriander root
4 tbsp Chopped coriander
2 tbsp Fennel
3 tbsp Brown Sugar
3 tbsp Fish sauce
6-8 tbsp Lime juice


Cooking oil for frying


For Dipping Sauce
6 tbsp Kimball Mayonnaise
5 tbsp Kimball Thai Chili Sauce
2 tbsp Spicy sweet soy sauce
2 tbsp Chopped coriander
Juice from 2 limes
Method
Slice beef into thin strips and flatten with mallet. Marinate beef strips with Kimball Mayonnaise and blended paste for 40 minutes.
For dipping sauce, mix all ingredients until well combined. Set aside.
Heat up oil in a frying pan and pan fry beef strips until fragrant and both sides are golden browned. Dish up and serve with dipping sauce.
Chef tip: Marinate beef strips with mayonnaise helps to tenderize the meat