TAMBAH DRAMA RECIPES |
Easy Rendang Roasted Chicken
Preparation Time 10 minutes
Cooking Time 1 hour
Serving Size 2 persons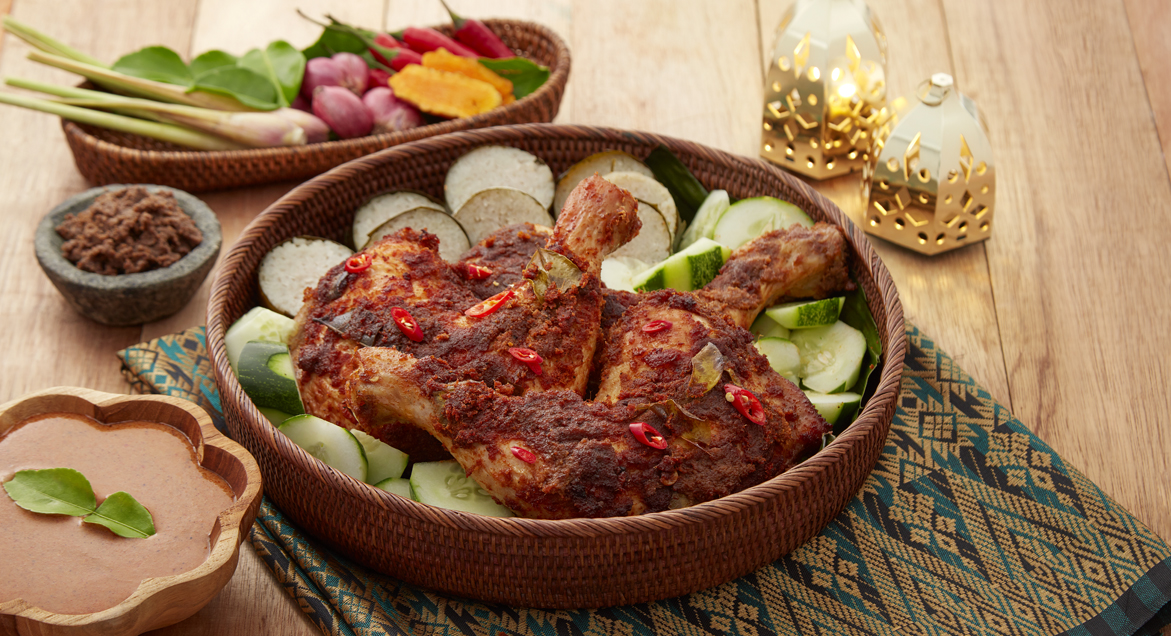 Ingredients
For marinade:
2 tbsp Kimball Oyster Sauce
6 tbsp Rendang paste
3 tbsp Authentic coconut paste (Kerisik)
2 stalks Lemongrass, grated
2 pcs Whole chicken leg
3 pcs Banana leaves
12 pcs Kaffir lime leaves
1 pc Turmeric leaf, roughly torn


For gravy:
2 tbsp Kimball Mayonnaise
2 tbsp Kimball Chili Garlic Sauce
2 tbsp Rendang paste
1 tbsp Authentic coconut paste (Kerisik)
1 cup Water
Pinch of salt
Method
Marinade chicken with chicken marinade ingredients for 30 minutes.
Place chicken on banana leave, add in kaffir lime leaves and torn turmeric leaves all over the chicken. Wrap chicken with banana leaves and tuck the edge to the bottom to avoid from open. Bake in preheat oven at 180°C for 60 minutes.
To make gravy, place all gravy ingredients into frying pan and mix well. Bring to a boil.
Serve roasted rendang chicken with gravy and lemang or ketupat.
Chef tip: whole chicken leg can be replaced by half chicken cut into pieces.