TAMBAH DRAMA RECIPES |
Kuih Cara Berlauk Udang
Preparation Time 10 minutes
Cooking Time 20 minutes
Serving Size 35-40 pcs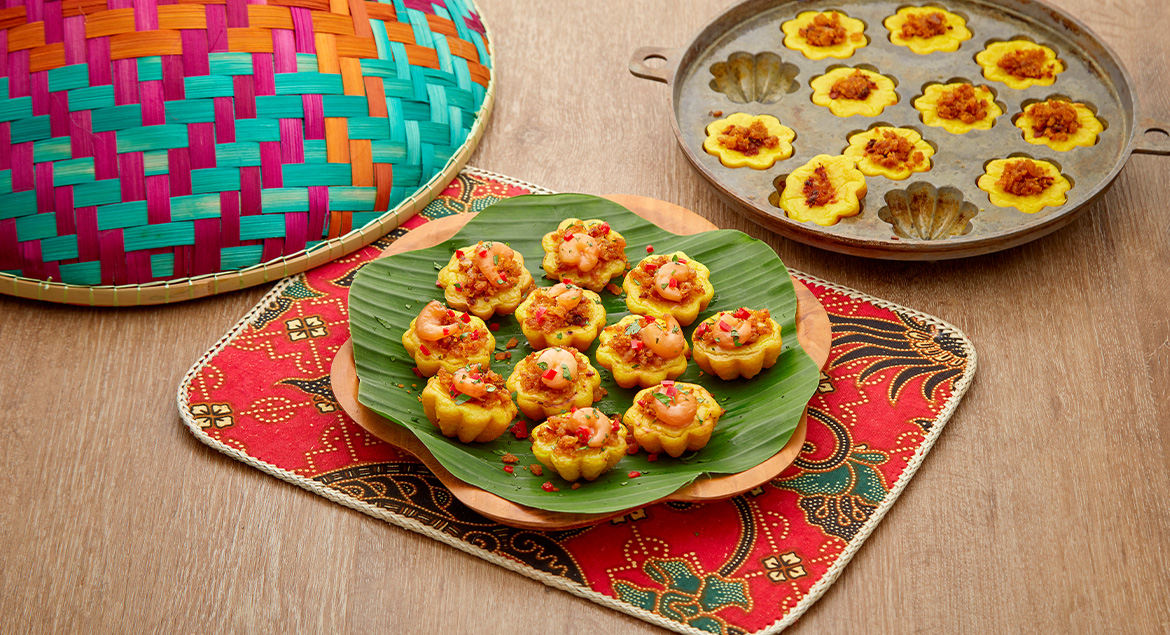 Ingredients
For filling:
2 tbsp Kimball Oyster Sauce
Oil for frying
100g Onions, finely minced
2 cloves Garlic, finely minced
150g Dried prawns, finely chopped
3 tbsp Meat curry powder
For topping:
1 tbsp Kimball Mayonnaise
2 tbsp Kimball Oyster Sauce
100g Small prawns, skin off
Oil for frying
For batter (mix well):
3 tbsp Kimball Mayonnaise
500g All-purpose flour
1 Egg - Mix well
5 cups Coconut milk
2 tsp Salt
2 tsp Turmeric powder
For garnishing:
Finely chopped coriander, chilli and fried shallots
Kuih bahulu mould
Method
For filling, heat up oil in a frying pan and sauté onions, garlic and dried prawns until fragrant. Then, add in meat curry powder and Kimball Oyster Sauce. Mix well and set aside.
For topping, mix all ingredients together. Heat up oil in frying pan and pan fry prawns until fully cooked. Set aside.
For kuih, heat up kuih bahulu mould in preheat oven at 160°C then lightly grease with oil. Pour in batter until ¾ full and top it with some fillings. Bake in the preheat oven at 160°C for 2 minutes or until fully cooked.
To serve, remove kuih from the mould and place some toppings on top. Serve hot.