TAMBAH DRAMA RECIPES |
Spaghetti Ala Mee Rebus
Preparation Time 30 minutes
Cooking Time 30 minutes
Serving Size 4–6 pax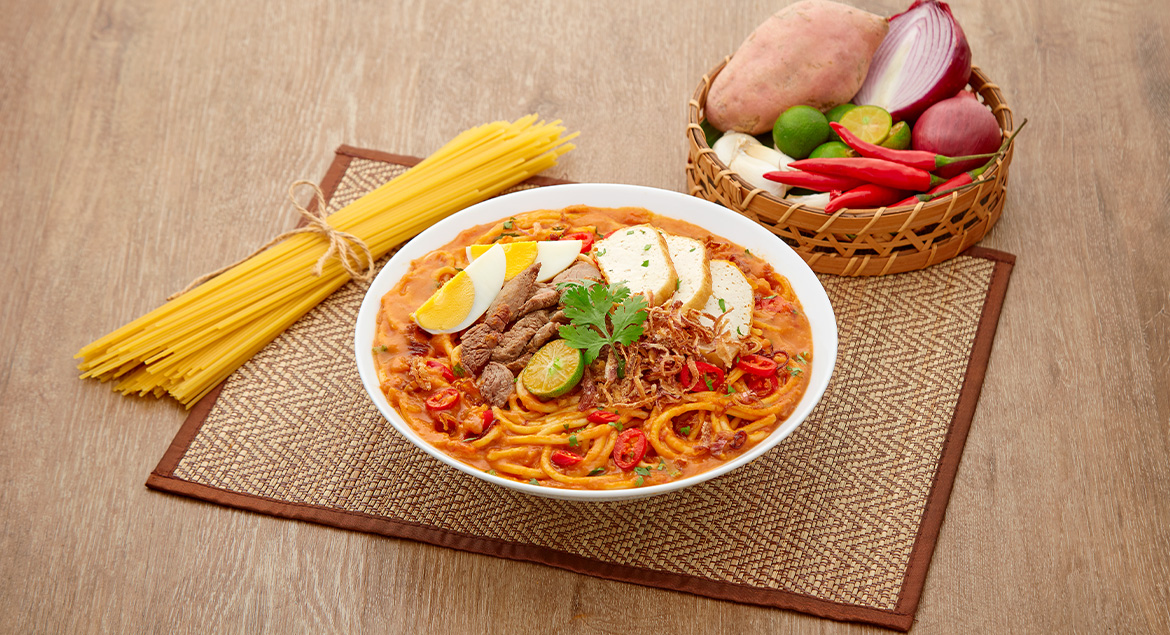 Ingredients
200g Kimball Spaghetti, cook as per packet instructions
2 tbsp Kimball Tomato Puree
2 tbsp Kimball Oyster Sauce
2 liters Water
500g Beef, coarsely sliced
2 tbsp Meat curry powder
For blended ingredients
1 can Kimball Tomato Soup
500g Orange sweet potato, boiled until soft
4 cloves Garlic
120g Onions
6 tbsp Dried prawns
2 nos Bird's eye chilli, deseeded
2 tbsp Oil
½ cup Water
For topping:
6 nos Eggs, hardboiled
2 pcs Hard tofu, deep fried and sliced
Red chilli, sliced
Coriander leaves
Method
Bring water to a boil, add in beef and boil for 20 minutes or until beef is tender. Remove the beef and reserve the beef stock.
Place all blended ingredients into a food processor and blend until to a smooth paste.
Pour in smooth paste into beef stock. Then, add in meat curry powder, all Kimball sauces and bring to a boil. Turn off heat and set aside.
To serve, place Kimball Spaghetti in serving bowl and top it with beef slices and toppings. Serve hot.