TAMBAH DRAMA RECIPES |
Fried Ground Beef Spring Rolls
Preparation Time 15 minutes
Cooking Time 10 minutes
Serving Size 16-20 pieces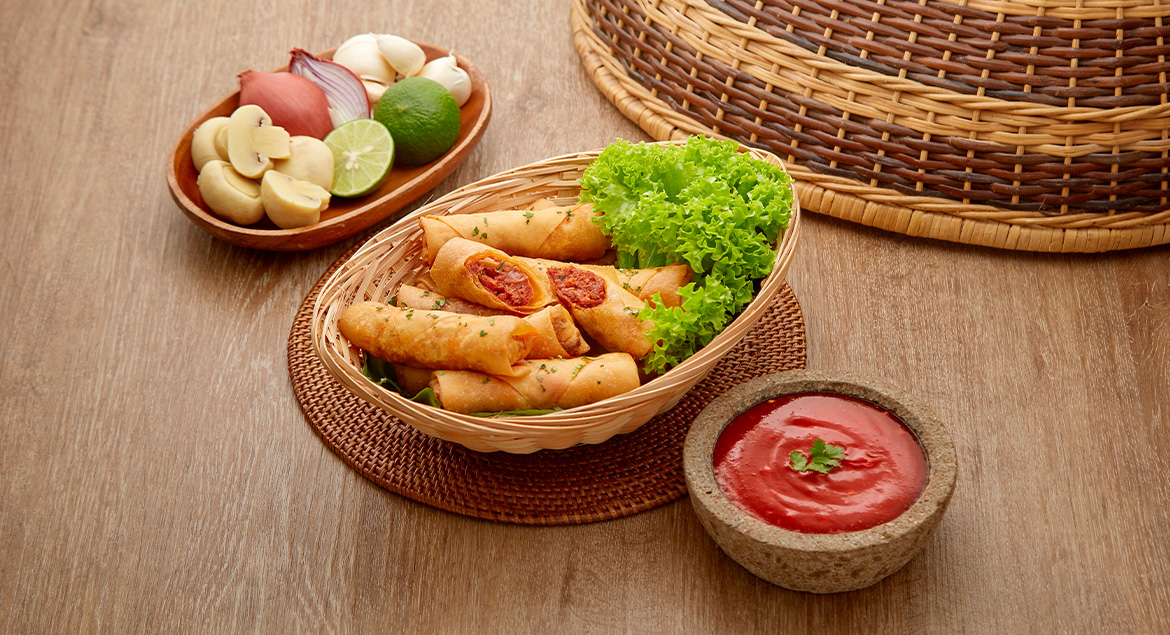 Ingredients
6 tbsp Kimball Mushroom Spaghetti Sauce
2 tbsp Kimball Tomato Puree
2 tbsp Kimball Chilli Sauce
2 tbsp Oil
60g Red onion, diced
2 cloves Garlic, minced
4 pcs Beef burger patties, diced
60g Mushroom, diced
2 sprigs Coriander, finely chopped
Salt and pepper to taste
1 packet Spring roll wrappers
For dipping sauce (mix well):
4 tbsp Kimball Tomato Sauce
6 tbsp Kimball Chilli Sauce
1 no Bird's eye chilli, finely chopped
1 tsp Lime juice
¼ cup Hot water
For garnishing:
Chopped coriander
Method
Heat up oil in a frying pan, sauté red onions and garlic until fragrant. Add in beef burger patties and stir fry until cooked through.
Next, add in mushrooms, all Kimball sauces and coriander. Mix well and season with salt and pepper. Set aside to cool.
Take 1 sheet of spring roll wrapper, place 2 teaspoon of filling and roll it up tightly, secure the edges with some water. Repeat step with the rest of the filling.
Heat up oil in a frying pan and deep fry spring rolls until golden brown. Dish up and serve with the dipping sauce.