TAMBAH DRAMA RECIPES |
Stir Fried Macaroni with Sausage (Macaroni Goreng Sosej)
Preparation Time 10 minutes
Cooking Time 10 minutes
Serving Size 4 persons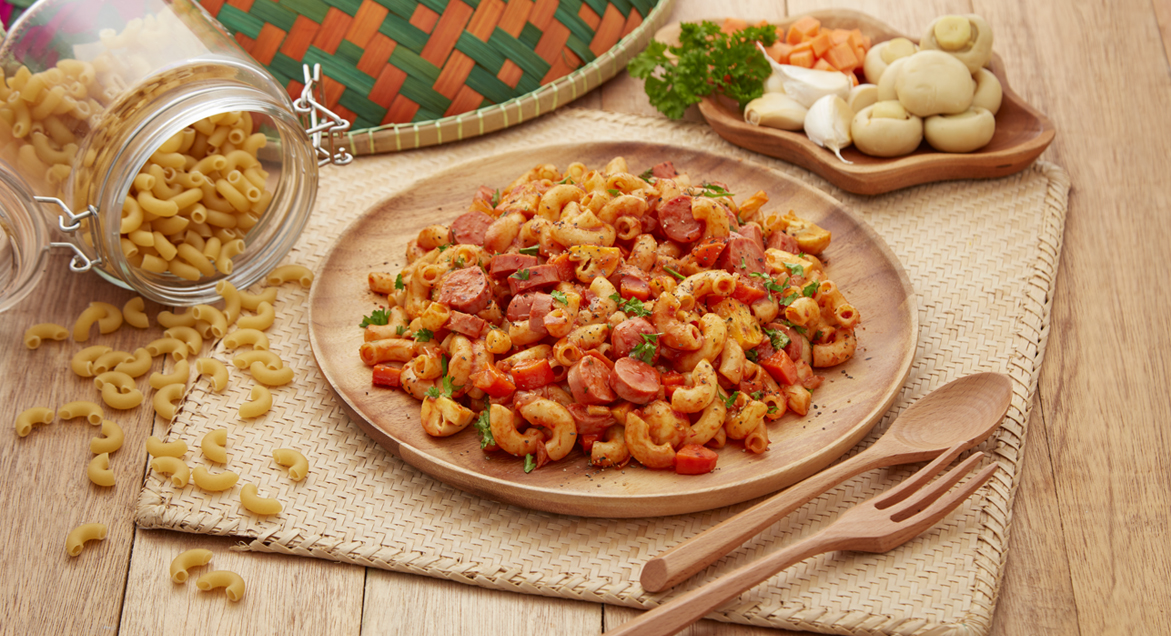 Ingredients
6 tbsp Kimball Traditional Spaghetti Sauce
3 tbsp Kimball Thai chili Sauce
200g Kimball Macaroni, cook as per instructions on packet
2 tbsp Cooking oil
50g Yellow onion, diced
100g Carrot, diced
5 pcs Sausage, cut into rings
2 pips Garlic, minced
1 can (425g) Button mushroom, cut into wedges
Salt & pepper to taste
2 tbsp Fresh basil, chopped
Method
Heat up oil in frying pan and sauté onion until fragrant. Add in carrot and stir fry for 1 minute. Then, add in sausage, garlic and mix well.
Pour in Kimball Traditional Spaghetti Sauce and Kimball Thai Chili Sauce , add in mushroom and Kimball Macaroni . Stir fry for 1-2 minutes.
Season with salt and pepper. Garnish with fresh basil and serve hot.
Chef tip: For a creamier texture, can add in 2 tbsp of Kimball Mayonnaise just before dishing up.