TAMBAH DRAMA RECIPES |
Kimball Stuffed Tofu Fritters
Preparation Time 30 minutes
Cooking Time 20 minutes
Serving Size 8 persons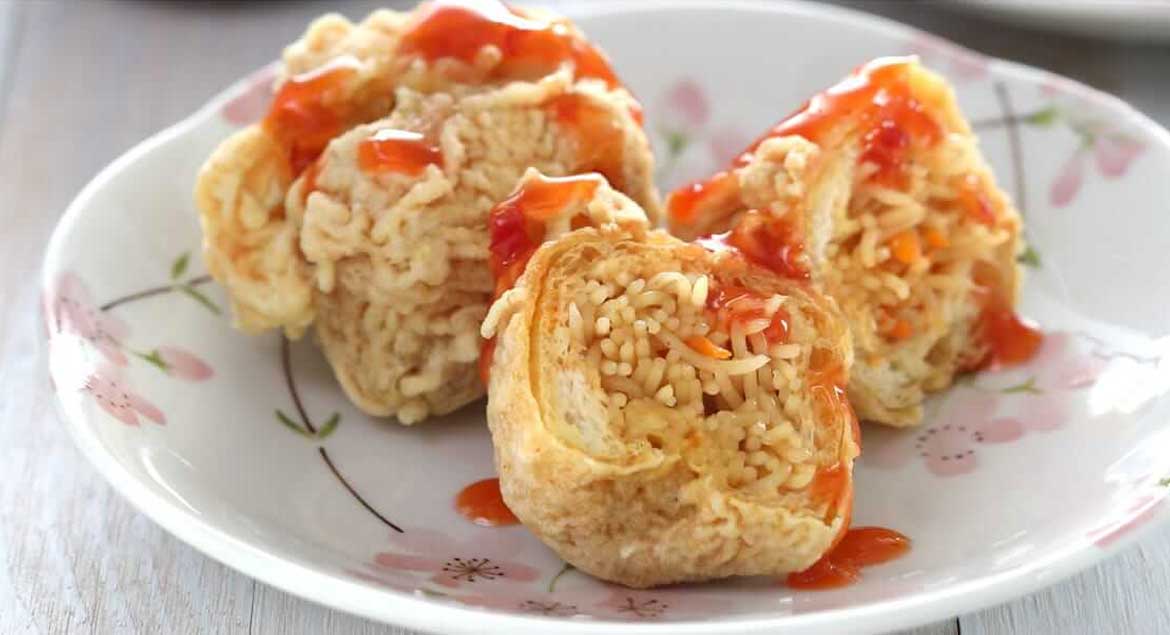 Ingredients
For filling:
100g Kimball Angel Hair, cooked as per instructions on packaging
2 tbsp oil
3 cloves garlic, finely chopped
1 small carrot, finely shredded
2tbsp Kimball Oyster Flavoured Sauce
2tbsp Kimball Tomato Sauce
Salt, to taste
Pepper, to taste
30 pieces fried tofu puffs
For batter:
150g rice flour
70g plain flour
½ tsp salt
1/8 tsp turmeric powder
1 cup water
1 Tbsp lime solution (air kapur)
3 kaffir lime leaves, finely shredded
2 cups oil, for deep frying
For serving:
1 cup Kimball Thai Chilli Sauce
Method
Heat oil in a wok over medium heat and fry garlic until lightly browned. Add carrot, stir-fry 5 minutes before adding angel hair, Kimball Oyster Flavoured Sauce and Kimball Tomato Sauce. Season to taste with salt and pepper and toss together until well-seasoned.
Pierce a small hole in each of the tofu puffs and generously stuff each cavity. (This can be made 1 day ahead and kept refrigerated)
Combine batter ingredients in a mixing bowl to make a thin coating consistency. Heat oil in a wok to a depth of 4 cm. Dip stuffed tofu in batter and fry in batches in hot oil until crisp and golden brown. Drain and serve hot, accompanied with Kimball Thai Chilli Sauce.